Contact us
Get a Free Quote
Built in Solutions - Manufacturer of Built in Furniture and Fitted furniture
Mill Farm Barn, Lower road, Long Hanborough, Witney, Oxfordshire, OX29 8LW, United Kingdom






Built by our own highly skilled in-house team, and installed by our own highly skilled fitters. We specialise in creating quality personalised Built In and Fitted Furniture that optimise space in a functional, adaptable and elegant design delivered to a high quality and within a competitive price.

 All work Guaranteed
 Fully insured to work in your home
 Professionally Accredited
 One day Fitting service
 Professional, punctual & tidy
 Caring and careful in your home

Instantly add character to your living room by having custom made alcove cupboards to go either side of your fireplace.
Built in cupboards in Alcoves make a fantastic addition to your home and create versatile living room storage that make your living room look great and provide a great storage solution.
Create even more storage space by adding shelves in alcoves where you can have a place for photos of cherished ones, or just a display space. An alcove bookcase with adjustable shelves creates flexible storage to place books or an ornament.
Made to measure, they will give you an amazing amount of storage that is functional, looks great and will certainly enhance your home.
There are a few things to consider when designing your alcove cupboards so we've made a simple alcove design guide below.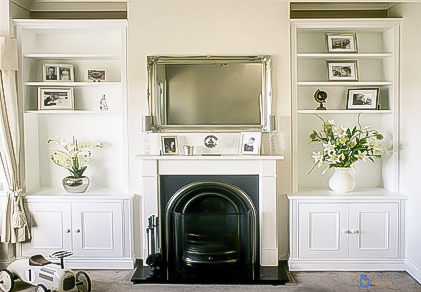 Get a Free Quote
Alcove units in a traditional style fitted in to a Victorian home. Featuring strong wide span shelves, Beaded doors and moulded skirting and cornice.
This pair of built in Victorian alcove cupboards were built around a fire opening. Finished in F&B Oval room with ornate features such as the large head section fitted with antique brass lamps.
A run of Traditional Alcove cupboards fitted to all the alcoves in this room. We created a bridging cupboard for the alcoves that span the room where the wall was removed. Finished in White eggshell and with classical ornate cornice and ogee skirting with traditionally framed Cupboards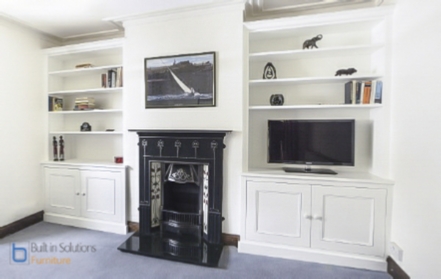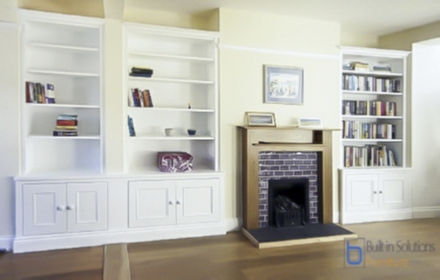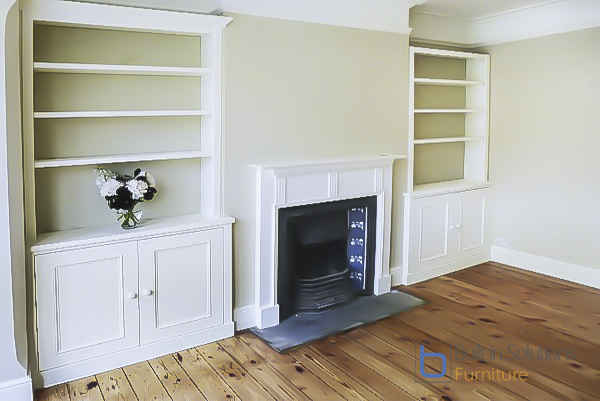 Clean lined Victorian alcove cupboards finished in a light ivory colour, and a panel bead within the recessed doors. The Cupboards that are fitted in this Victorian home, extend past the alcove with the bookcases recessed. Complemented by the traditional looking Fire surround creating a beautiful room to relax in.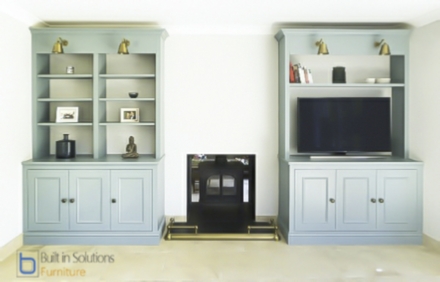 Bespoke alcove unit with traditional styled framed cabinet fitted up to ceiling. Moulded doors with a simple panel bead, Painted in White eggshell.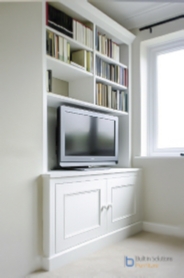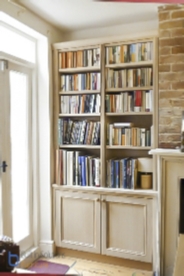 Traditional Oak alcove unit with classic style kick board, other features include fluted pilasters and large panel bead in the door frames. A lovely addition to this room.
Modern Alcove furniture with double bookcase with traditional features such as the full framed cabinet and panel bead within doors. A space had been created for a TV to sit comfortably in
Alcove units with a mirrored display area above Thick shelves & recessed lighting to light up the display, and creating the illusion of space in this dark corner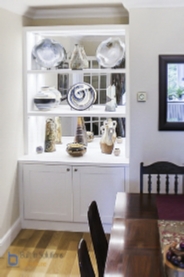 Fitted into a small bedroom, this built in alcove had a featured top bookcase that extends around the room with a three drawer section below the shelving.
Modern styled alcove unit with panelled doors fits snugly into this unused corner in the room creating a feature and much required alcove storage.
Contemporary Alcove unit with push to open doors and space for a LED TV. Fitted to the ceiling this piece just blends into the room with minimal fuss.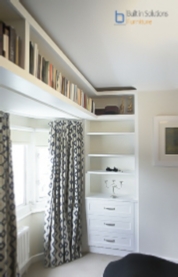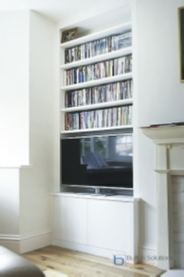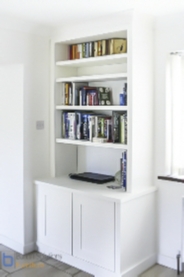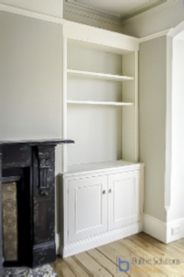 Traditional Victorian styled Alcove unit with traditional framed cabinet with brass butt hinges. Large head with cornice and moulded cabinet top and inset panel bead
What is an Alcove Cupboard?
It is a type of cupboard that makes the use of the spaces either side of the fireplace.
A number different bespoke furniture pieces can be created to make use of this space such as Floating shelves, Alcove bookcases and TV media Units.
In your bedroom how would you like wardrobes in alcoves? Imagine all your clothes having a home of their own.
Drawers for accessories, shelving for T shirts, Jumpers, and lots of hanging space with double hanging to maximise space.
With every alcove furniture build, there are a several things that will require considerations to make it just right for you.
There are no hard and fast rules that need to be followed, but think about proportions of how the cupboards and shelving look together and in your room.
This is only a simple guide to point you in the right direction.
Designing your Alcove Cupboards
Get a Free Quote
What you should look for is a reputable company with good reviews that will make the furniture and complete most of the finishing off site in their workshop where the quality can be controlled and is not dependent on having to finish, pack away and tidy up before time to go home.
By selecting Built in Solutions to fit your alcoves, you will benefit from the following
Pre-finished in our workshop before hand
Usually only

One day

required for fitting
Professional Accredited by The Furniture Ombudsman
Quality Handmade furniture you will be

very happy

with
Dealing with a

friendly local

company
Houses shift and move a little over time, so generally speaking, the older your home the more likely the walls will be uneven. So in terms of measuring of your bookcases, the width of the wall will be different all around, the same applies for taking measurements at floor level and ceiling level, meaning that you will have to select a company with skilled craftsmen to take account of all this to trim all the panels to fit perfectly.
There are so many on the job carpenters and companies with a wide variation in the quality they provide, typically most 'companies' are on the 'job carpenters' that will typically spend the best part of a week to start making your alcove units by cutting up all the material, probably in your beautiful garden, followed by allot of drilling and screwing to assemble the pieces and then sanding, usually in the room the fitted units are to be fitted. After this the alcove Cupboards will require painting, which will require 2 coats of primer, and then two coats of paint, oh and not to forget to mention, sanding down between each coat (more rubbing down and sanding of edges if MDF is used) so a good finish can be achieved, allot of disturbance. So probably a good week in total !
Selecting the right company to build your Furniture
Spraying your furniture gives you the best possible finish. We can spray paint your furniture with any of the above paints, or alternatively in an extra hard lacquer to provide a lifetime of use in any range or sheen levels, from eggshell to gloss and is available in any colour.
Finishing is carried out in our workshop prior to each piece been fitted to your home, meaning your furniture will be ready sooner with less disruption.
Quality Finishing of your Furniture
Every piece of fitted furniture that we create for your home is made with the best quality material and professionally finished and installed.
Creating the perfect finish for your furniture is perhaps the most important factor bringing to life your design, as this is what makes the furniture look great, therefore we offer a range of finishes from hand painted with paint from various suppliers for example, Dulux, Farrow & ball, or Little Greene,
Built in Alcove Cupboards for your Living room